Rise up Neighbour
Rise up Neighbour is a clarion call to the neighbourhood. It is a movement that urges MIOT International's beloved neighbours to take the path to a healthy lifestyle and be in the best of health always.
This initiative is also designed to make us connect better through interactive programmes. Be it any health-related activity in your community, like a marathon you are planning for a fitter neighbourhood, or a health-talk you want organized to keep everyone enlightened, we at MIOT would be more than glad to be a part of it. Because, as a neighbour, MIOT cares, like any neighbour would.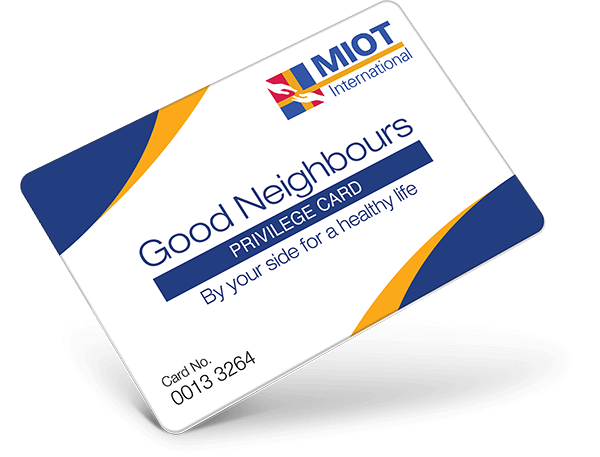 MIOT Good Neighbours Privilege Card
As your neighbour, we at MIOT International are always committed to taking care of you and your family. In view of your continued patronage, we are bringing you something very special – MIOT Good Neighbours Privilege Card. This free* card entitles you to various benefits and privileges at our hospital. Also, it will ensure that world-class healthcare is accessible to every family in the neighbourhood.
Enrol today and reap the benefits!
MIOT International
MIOT International offers the best in healthcare to patients who have come to trust the hospital as one of India's best. As a 1000-bed facility offering superlative treatment in 63 specialities, MIOT proudly lays claim to a team of world-class professionals who use our state-of-the-art infrastructure and cutting-edge technology to heal and give hope to our patients. Consistently adjudged as a leader in healthcare, MIOT International attracts patients from 129 countries who seek our expertise in moving towards wellness.